''Occultae musicae nullum esse respectum"
-Does anybody know of a historical Italian harpsichord (false inner-outer, longest string CCC=740mm) with this motto? which is attributed to Suetonius writing of the emperor Nero (there is no repect for music which is concealed- so why not play? Lives of the Caesars 6).
There is an instrument for sale on English Ebay, built by David Garrod in the 1980s which has that motto, I think taken from the original, so identifying the motto would help to identify the instrument he was copying. I have no connection with the vendor but am curious about what instruments Garrod was copying in the 1980s. He seems to have been using Röslau wire except for the bass strings.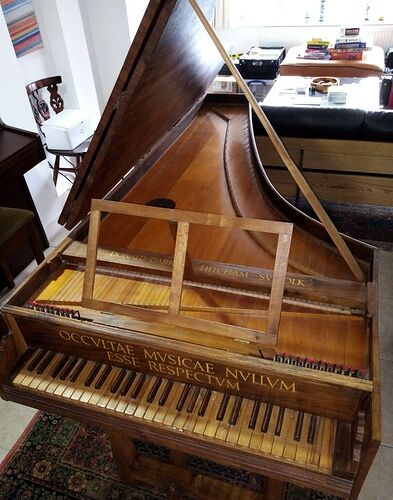 To find search "Beautiful Handmade Single Manual Harpsichord by Donald Garrod"
Michael