I am seeking help with a maintenance issue.
With advancing age it seems to become more important to be wary of loudness issues when regulating a harpsichord. I have listened to quite a few performances on the internet (but did not keep a record of which) where some recordings seem to be very strong in the base. While it is not clear whether that impression is "merely" a matter of a regulating process or the natural response of the particular instrument, the internet has not offered much in quantitative terms of regulating, other than admonishment to adhere to "equal loudness" uniformly over the whole compass. In his kit-construction notes Frank Hubbard admonishes, without further quantitative advice that
" Each note should be equal in loudness to its neighbor and the bass and treble should balance as well."
That uniformity may become somewhat of a problem with older players ("technicians"), as it requires a rather subjective interpretation. On the other hand, if I am way off, I'd like to know about that, too (kindly).
Not having access to what I would consider a first-rate instrument for emulating (I own —a well and carefully self-built— Hubbard Kit # 625, but nothing to learn from) makes regulating rather difficult with advanced age (pushing 90). We have a senior individual in the Los Angeles area who is called on for all the important baroque music events when one or more harpsichords are required, but his plectrum treatment is rather harsh whenever I was able to experience it. He is a very kind and helpful individual, but on one occasion, when I needed help, he judged me to be too particular.
The human ear is a highly nonlinear sound transducer which responds to sound level (volume) with a strong dependence on frequency (see, e.g., Suzuki et al: http://www.mp3-tech.org/programmer/docs/IS-01Y-E.pdf ); important names associated with these developments are Fletcher-Munson (1933) and Robinson-Dadson (1956). My concept of "equal loudness" for all keys is thus based on the assertion that achieving equal loudness for all keys requires that the correction for the nonlinear hearing response encompassed, e.g., by curves like those in Figure 5 of Suzuki et al., one should obtain the same value of loudness for each key, and thus when plotting loudness against key number (or frequency) all sound values should — in the best of worlds—fall around a line parallel to the key-number axis, with a scatter of about +/- 2 or 1.5 dBs. I had my feelers out to a group of acousticians, to make sure I am not way-off. I also tried to consult with the leadership of the American Acoustic society for support or a reference, but never received a response. Maybe they were turned off by my special reference to "Harpsichords"?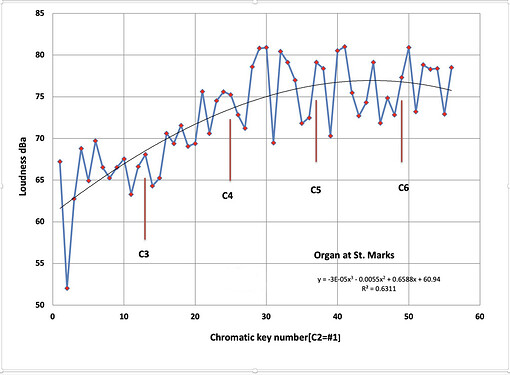 Six years ago I had the opportunity to measure the loudness of a register on a tracker organ in our town, because I knew the organist; I thought, certainly, a professional organ technician knows how to adjust the loudness of an instrument professionally. I use(d) a TENMA 72-947 Sound Level Meter, which proclaims to contain the adjustment for the nonlinear hearing of loudness for the human ear; I was totally surprised by how non-uniform the key-to-key loudness was (11 dB for a next neighbor and about 17dB for the C2#-to-D2# keys) and how nonuniform and "no-equal" across the span of C2 to C6 (for only one register tested). This record exceeds the expected scatter of 3 to 4 dBs (+/- 1.5 to 2 dB).
I would like to know what "Equal Loudness" means objectively (measurably) for a harpsichord, by looking for a result similar to the figure above, but obtained from a well recognized and maintained instrument. Or, are all (good) instruments (like Gustav Leonhardt's. e.g. at the extreme) really regulated on a totally subjective basis? That is what I seem to encounter.
Where can I get reliable information on that question? Is there any data that records sound level measurements for a high quality harpsichord that are accepted by a number of reputable harpsichordists or builders? Perhaps our colleagues from an academic institution have something like that in their archives?