We are just back from Urbino. We all know the history of the famous intarsia there, but let me just write down a reminder for the "non-clavichordati".
In the Palazzo Ducale in Urbino there is a "Studiolo", the private cabinet of the duke, with its walls fully covered with wooden intarsia produced c.1476: they represent all sorts of things, from scientific tools to landscapes, and quite a few musical instruments, reproduced in full perspective, notably theorbos, recorders and a fretted clavichord.
This clavichord is famous for being the oldest depiction of a fretted clavichord, and about one century earlier than the earliest extant such instrument. The compass is F-G-A-Bb-chromatic to f''': four octaves with a short octave from low F. There was no standard pitch at the time, but a working modern replica by Pierre Verbeek is strung and pitched for A=440Hz. (see https://harpsichords.weebly.com/urbino-palazzo-ducale-clavichord-15th-c.html : for more details Verbeek's full paper of 2011, entitled "The Urbino clavichord revisited", is available for vewing and free download.
Verbeek has shown that the intarsio is remarkably accurate, and that from the perspective a perfectly functional 3D model can be derived and built into a fully-functioning instrument.
Unfortunately, the photographs found online, including the one Verbeek included within his paper, have a relatively low resolution. Which is why, in this true "pilgrimage" of mine, I endeavoured to produce a better picture, with a significantly higher resolution.
Taking the picture was not easy: from the first picture, "starring" my wife Betty, it is apparent that the clavichord is located within a corner, and an acrylic wall makes it difficult to access.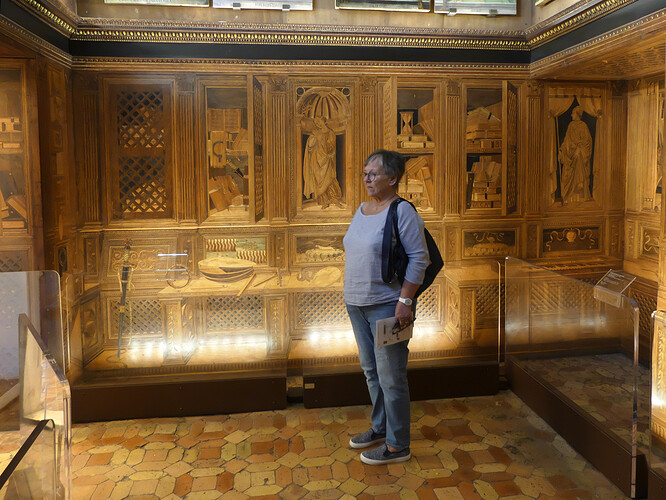 Luckily, this wall is not too tall, and with some contortions I was able to take a photograph, its perspective further computer-improved once we were back home in Lucca. I am attaching a copy downsampled to 1600x1200px,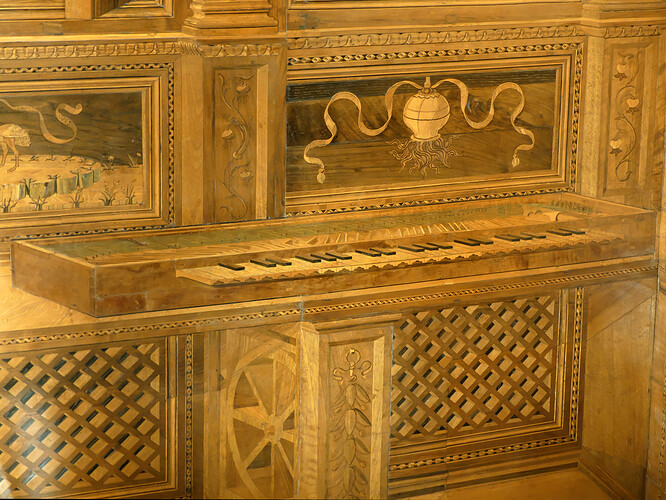 but I have the original at 4000x3000px in case anybody would like to see the remarkable detail of the intarsia.